Robert William Botting:
Patriarch of a New Zealand Botting Family
....... Robert Williams last years of life
Robert William was chairman of the Livingstone Cemetery Trust over the period 1878-1888. The Livingstone Cemetery Committee Minute Book provides interesting information.[2]
Robert William Botting died in Naseby on 23 February 1890 aged 72 years.

There was a further note made in the Cemetery Committee Minute Book that "... on 25 February 1890 an internment fee of £1/2/6 was paid for Robert William Botting...". He was buried in the Botting Family plot on that day.
Robert William's Death Certificate recorded his occupation as 'Butcher' although in his lifetime not only did he have a number of other skills and occupations that included: Carpenter and Joiner, farmer, and gold miner, but he was also a good and well respected businessman.
He was also a man with vision and imagination. On one occasion he took some drawings to a blacksmith with instructions for them to be translated into steel. The blacksmith did so, and realising the value of the Robert William's invention, patented what is now known as the revolving coulter of every plough.
Robert William also had a reputation for being clever at carving, and modeling toys in wood and metal. He made toys for his grandchildren and one in particular they threw through the air ........ and it carried some distance before falling to the ground. He said that some day it would go through the air by itself – perhaps he had built the model of an aeroplane many years ahead of its time?
[2] "In 1878 there was a subscription list for a project to enclose the cemetery. Frederick, Francis, Peter, John and James Botting all gave £1. On 13 May 1882, Francis Botting was paid £1/10/- for thistle cutting in the cemetery. In 1885 the Cemetery Trust held a concert and charged 3/- for a double ticket and 2/- for a single. Proceeds were £4/15/6. Robert William Botting gave a donation of 10/-......... ( and down a little further) ...... he was refunded 5/-"
........... their greatest legacy
Not only should Robert William and Jane be acknowledged as the pioneers of a New Zealand Botting Family but must also be recognised for their steadfast family-making ... and accorded the greatest respect and admiration for establishing a family of very good stock: a family of healthy, resourceful, independent, God-fearing and upright individuals.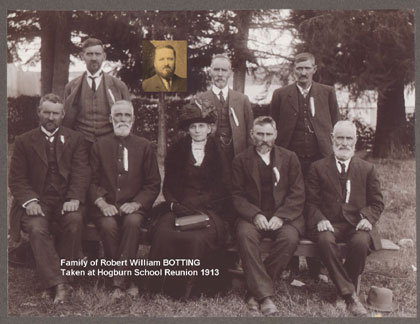 Back row:
Leopold Henry Thomas (Leo) | 16th child | 1863 – 1921 (58 years)
Inset – Robert Peter (Bob) | 6th child | 1851 - 1925 (74 years)
John Francis (John) | 9th child | 1856 – 1947 (91 years)
Peter Pomeroy Dungey (Peter) | 12th child | 1858 – 1946 (88 years)
Front row:
Garibaldi (Gari) | 14th child | 1860 – 1943 (83 years)
James Frederick (Jim) | 7th child | 1852 – 1943 (91 years)
Sarah Frances (Sarah) | 10th child | 1857 – 1952 (95 years)
Francis William (Frank) | 13th child | 1859 – 1921 (62 years)
William John (Bill) | 3rd child | 1846 – 1919 (73 years)
The children of Robert William and Jane appeared in general to exercise more moderation than their parents in their family-making. The following are the statistics of their progeny:



The New Zealand Botting family line has descended to the eighth generation of Robert William and Jane Botting and the youngest children of the family are their g.g.g.g.g. grand sons and grand daughters. It is believed the pedigree of the youngest children of the Robert William (New Zealand) Botting Family can at this point in time be traced back fourteen generations to William Botting (born 1597 in Slaugham, Sussex, England) and his wife Mary.
The 'senior line' from Robert William Botting at present comes down through Robert Peter Botting, as follows:
1. Robert Peter Botting (Robert William's eldest son) died 1925
2. Robert James Botting (Robert Peter's eldest son) died 1938
3. Robert James Edgar Botting (Robert James' only son) died 20 October 2002
4. Katherine Adair Botting (eldest daughter of Robert James Edgar Botting).
Katherine Adair Botting married her third cousin Russell Edward (Russ) Botting. They 'share' the same great-grandfather Robert Peter Botting and this detail has slightly complicated the NZ Botting Family Tree (as they, their children and grand children get to appear twice!).
BOTTING Family Reunions in New Zealand
With a sense of belonging we came together as a Family of BOTTING

With the pride engendered through association with something of great value

With profound respect for our forbears, for their pioneering lives and for their achievements over the years availing Family, Community and Country

With the strong desire to retain, treasure and safeguard for the benefit of future generations of BOTTING the cherished values of family life and love which Robert William and Jane Botting created for our New Zealand BOTTING Family.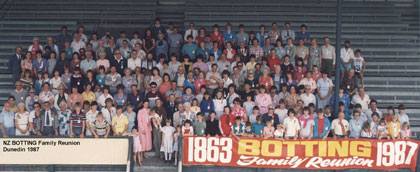 ------------
-----

Bibliography:
1. 'History of New Zealand Botting Family'
Edited and reprinted by Russ Botting August 2005
2. 'Pick, Plough, Hammer and Barrel: 400 Years of the Botting Family 1597 – 1997'
Compiled and edited by Alan D. Botting, Adelaide Feb. 1997
3. Botting Family Film archives: 'Retracing their Footsteps'
By Botting Bros. Films directed and produced by Des Botting. Camera sound and lighting by Peter and Bill Botting. 1977
4. Botting Family Genealogical Data on PC database held by Russ Botting March 2006
5. 'Garibaldi Botting Family'
Notes compiled by Esther McQueen (nee Botting), New Zealand. Undated.
6. Personal letter dated 30 April 1873 from Alice Mary Botting, 52 Baker St London, to Frederick William Botting, Adelaide.
7. 'The World Book of Bottings'
Published by HALBERT'S FAMILY HERITAGE
8. 'Down the Years in The Maniototo' by Janet C. Cowan.
Otago Centennial Historical Publications 1948. Reprint by CAPPER PRESS 1978
9. 'Gold Trails of Otago' by June A. Wood. Reprinted 1974 AH & AW Reed
10. 'Naseby: History 1863 – 1976" by John O'Neill
11. 'The Port of Otago from 1853' by A. H. McLintock. Whitcombe & Tombs Ltd. 1951
12. 'History of North Otago from 1853' by W.H. S Roberts.
13. 'Cyclopedia of New Zealand 1904'